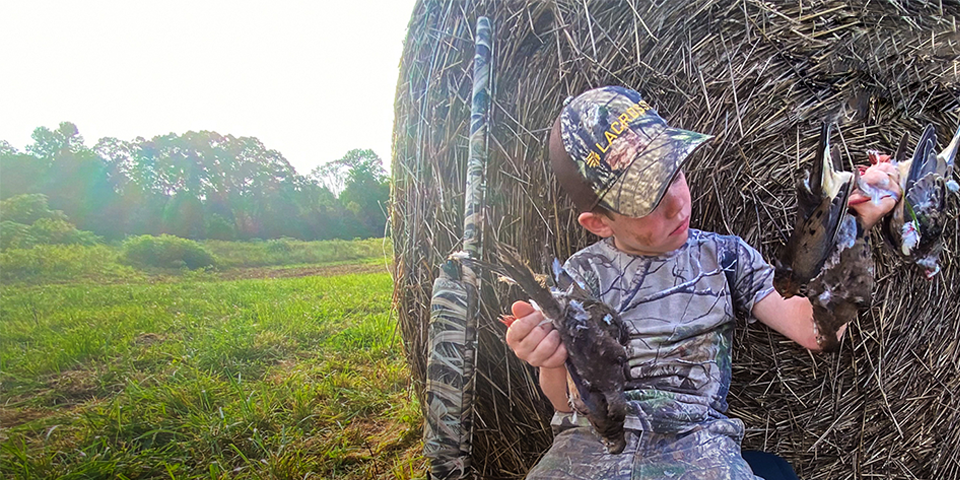 The summer months are winding down, and hunting seasons are finally opening back up across the country. One of the first on the schedule is dove hunting. Few other hunts offer the fun and excitement that dove hunting provides. For hunters across many southern states, opening day of dove season is a sacred day, second only to Christmas. It's a hunt that sportsmen look forward to all year long, full of good food, fast-flying birds, and memories that'll last a lifetime.
And despite the serious challenge of making the shot on a flying dove with a shotgun, dove continues to be a favorite hunt for many kids across the country each season. Why?
Here's a look at 4 reasons kids love dove hunting.
Making Memories with Friends & Family
Much like duck hunting, dove hunting offers some of the best opportunities to make memories with friends and family. A dove field will typically play host to a number of hunters scattered across the field for maximum coverage. It's an annual event, much like a family reunion, designed catch up on old hunting tales, as well as build new memories along the way.
My young boys are finally coming of age and starting to tote a shotgun for themselves. But even long before they were old enough to shoot, they were tagging along, retrieving birds, and pointing out birds on the approach. They loved it! Leaving them at home on opening day of dove season was not an option.
Don't miss out on the opportunity to make memories this season with family and friends in the dove field. They will be some of the best memories you'll make all season long.
Food & Snacks
For my kids, the food and snacks carried to the field for dove hunting are as important as the gun and shotshells. They love snacks! But the snacks also play a role in keeping kids occupied throughout the hunt.
When things slow down and the birds aren't flying, it can be tough to keep a youngster still and concealed at your post. Temperatures are usually scorching in early September, making things difficult if you're not blessed with a little shade for cover. This can be particularly difficult for kids.
Make sure you have ample food, snacks, and drinks to keep them hydrated and entertained as you wait out the birds.
Lots of Live Targets
When things are hot in a dove field, the action will be fast and furious with lots of live targets coming to feed on sunflowers or wheat seed. When it's good, it's really good! And whether they're shooting for themselves, or watching the big kids shoot, the rumble of shotguns booming across the field is an experience most any kid will enjoy.
There's not likely another critter in the woods that'll provide the shooting opportunities like doves. A child may sit in a treestand all season waiting on an opportunity to shoot a deer. If they're lucky, they may shoot 3 or 4 times a season when deer hunting.
Compare that to dove hunting, where they may burn through boxes and boxes of shells in a single day. Pound for pound, dove hunting offers more shooting opportunities than most anything out there.
A More Relaxed Hunt
The laid-back atmosphere of a dove hunt is enticing to kids for a number of reasons. They don't have to gear up head to toe in camo. They can head to the dove field in shorts, a camo t-shirt, and sneakers. They can talk throughout the day without having to be hushed and constantly reminded to whisper.
They love to play bird-boy, making a run through the dove field to retrieve fallen birds. When they're older, they'll enjoy the seemingly endless shot opportunities on birds. And because the adults miss plenty of shots on birds for themselves, the newest dove hunters in the field will blend right in when their shots fall short. Bottom line – dove hunting is just a more relaxed hunt.
Dove season is right around the corner! Make plans now to introduce a child to this exciting hunting tradition that'll build memories for a lifetime.
About the Author
Mossberg
Founded in 2002 as a subsidiary of Mossberg Corporation and offers a lineup of semi-automatic and bolt action rimfire rifles as well as over-under and semi-auto shotguns.
See all articles by this author