Squirrel Hunting: The Perfect Way to Get Your Child Started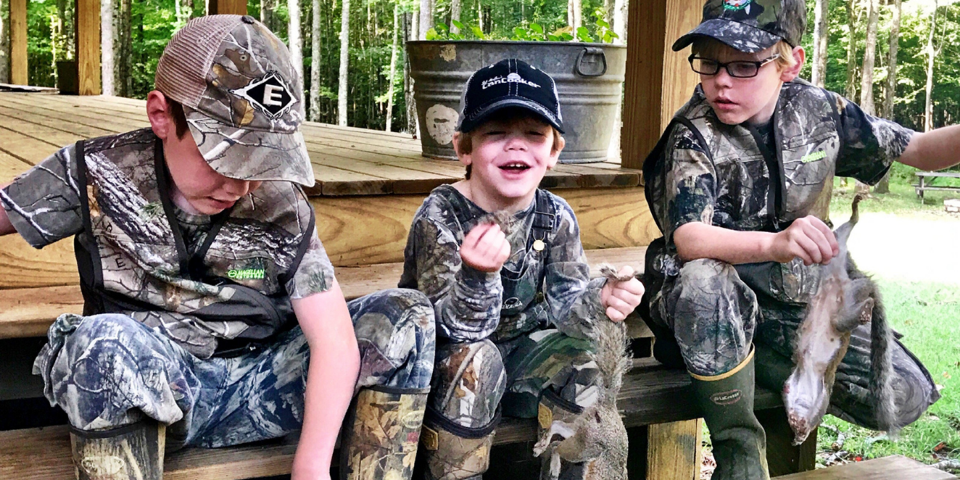 I went on my first hunting adventure with my dad when I was seven or eight years old... The hunt was for squirrels on a little 18-acre chunk of woods where we lived at the time. I still remember being fascinated by every aspect of the hunt. I remember walking through mud holes without a care in the world and crossing the rickety, old wooden footbridge across the creek. I remember trying to keep up with my dad, and watching as he handled his shotgun. Seems like he used an old bolt action Mossberg shotgun back then.
I thought it surely must be the greatest gun ever made. I didn't know much back then, but I knew we were squirrel hunting, and that's pretty much all that mattered on that particular day.
We went on to kill two squirrels that morning. I watched both squirrels fall to the boom of dad's gun. I remember feeling a twinge of sadness for the squirrels when I walked up to pick them up, yet I was thrilled at the fact that we had done what we set out to do. We were squirrel hunters!
That single morning with my dad set me on a path that I've never left since. Hunting quickly became more than a hobby or sport for me. It soon became my passion. Today, hunting is my passion as well as my career. It's also the means by which I strive to impact not only my own children but kids across the country as well.
So when I say that squirrel hunting is the perfect way I know to get your child started in the outdoors, I am speaking from experience, no doubt. Here's a look at how to make it happen with your child this season.
Let Them Tag Along (Even Before You Think They're Ready)
You'll miss some of the best memories of all time if you don't let your child tag along on hunts with you early. Sure, they are noisy and clumsy. But that's what makes it so much fun.
The parent in us tends to think, "They're too young," or "They're just not ready." But trust me, take them anyway.
Yes, they will likely spook the game. No big deal. It's a squirrel. Don't miss out on the memories of taking them along to learn about the hunt.
They need to see you in your element. They need to watch it unfold. They need to hear the sounds and smell the gun powder. It's not easy, but be sure to take them early. You won't regret it. Don't wait too long to take your child on their first hunt. You'll miss some of the best memories of all.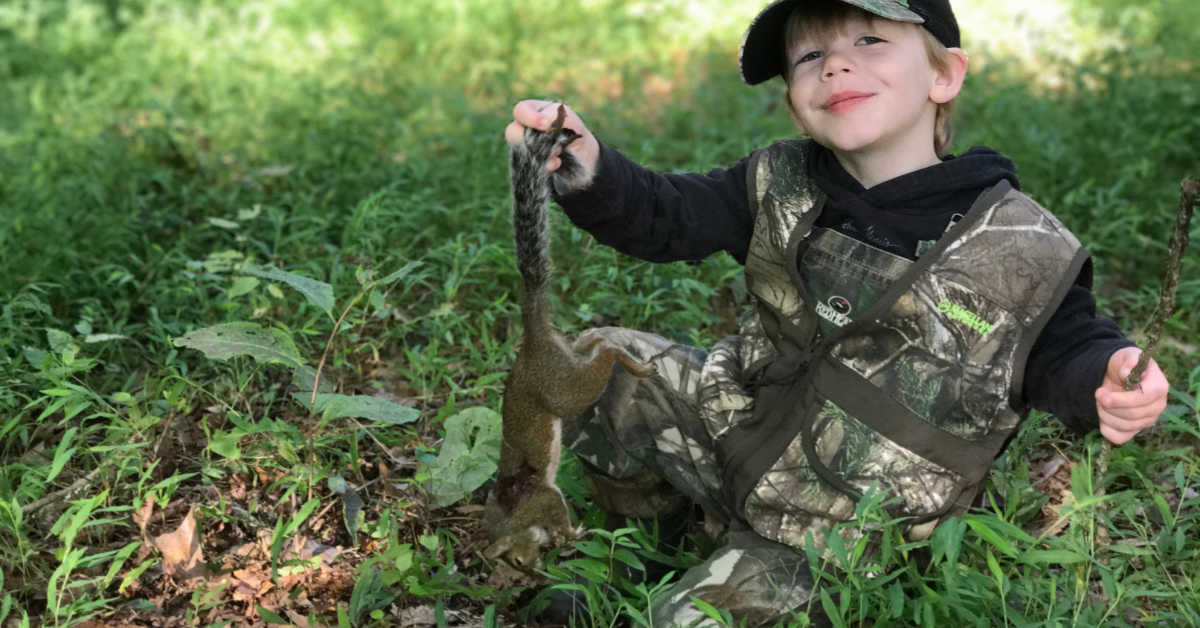 Keep It Fun
The beauty of squirrel hunting is that the pressure is off. You don't have all the hassle and worries that come with hunting big game. You can sit back and chill and enjoy the time with your child. It's a fairly quick game with lots of opportunities to move about the woods, so your child doesn't get bored like he or she might when waiting on a deer.
The main thing to remember is to keep it quick. Keep things moving. When they are ready to go, take off. Keep it fun, and they'll want to come back again and again. Above all else, keep it safe, and fun.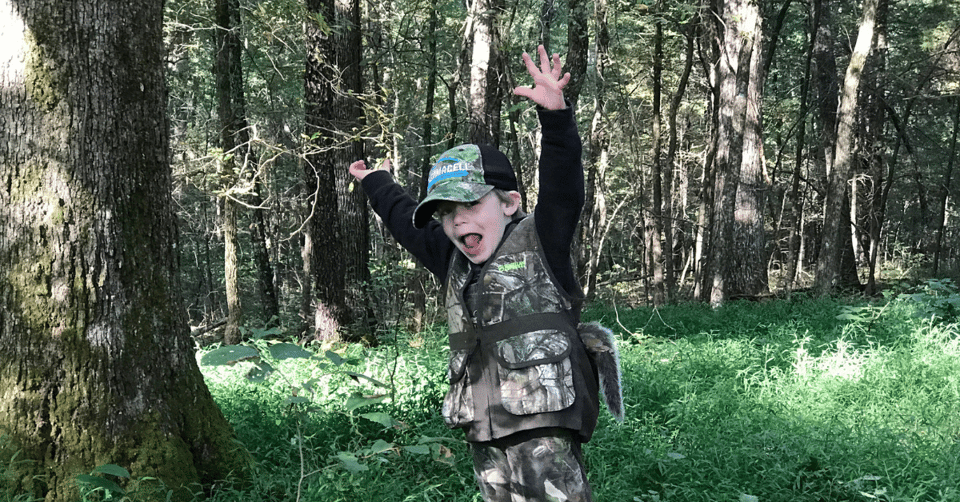 Prepare them for the Elements
Here in Tennessee, squirrel season kicks off in August. And with August being one of the hottest months of the year, the conditions can be brutal. And while more enjoyable conditions will follow, we wouldn't miss opening day for the world.
It's a tradition that my little boys look forward to each year. So we plan accordingly as we battle the elements. Aside from the obvious heat at this time of year, the biggest deal-breaker for these early season squirrel hunts is being ill-prepared to battle mosquitoes.
Few things are as miserable as the sound of buzzing mosquitoes in your ear and the annoying, itchy whelps that typically follow. We no longer go into the woods without adequate bug spray and a Thermacell unit. The Thermacell is worth its weight in gold when it comes to protecting your kids from mosquitoes. Don't leave home without it.
Slow Down and Wait for Them
One of my biggest struggles is getting so caught up in the hunt that I forget I've got a five-year-old trying to keep up with me. It's easy to get frustrated and short on patience when hunting with kids.
The key is to remember that the hunt is about them.
It's not about you killing a limit of squirrels, but more about stoking a passion and love for the outdoors within your child. The frustration you show will put the brakes on the fun in a hurry. Slow things down when you're squirrel hunting with your kids. Be sure to go at their pace. Rest often. And never let them feel like they're holding things up.
Don't be in a hurry. Slow down, and let your child know the hunt is all about them.
Take a child squirrel hunting this fall. It'll change his or her life, I promise. You'll be making memories that you'll carry with you for the rest of your lives and passing on the hunting tradition to the next generation along the way. It's a win-win for everyone.
About the Author