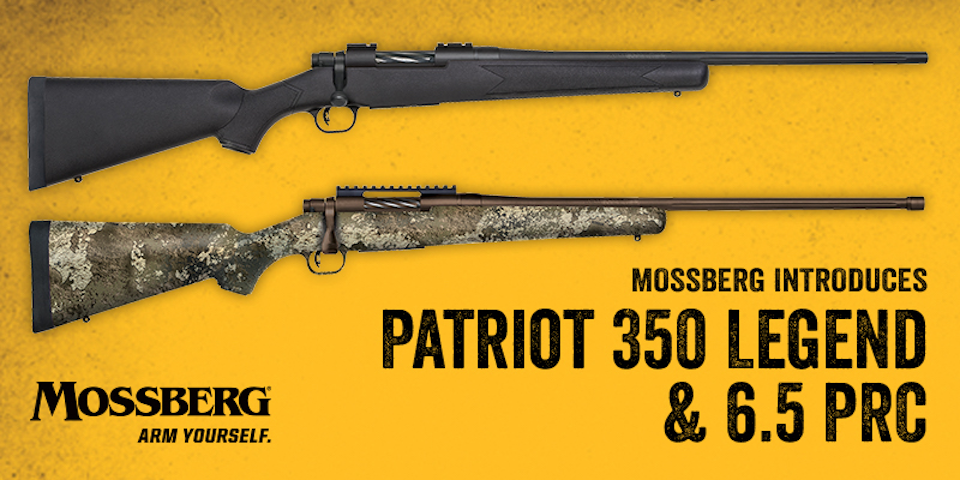 As the Summer draws to a close, hunters start the anticipation of hunting season. Mossberg will answer their call for the latest and greatest calibers with the introduction of the 350 Legend and 6.5 PRC Patriot and Patriot Predator Rifles.
350 LEGEND PATRIOT AND PATRIOT YOUTH MODELS
For those looking for the latest in high performance, straight-walled cartridges for multi-game and seasons, and perhaps a companion rifle for a youngster for less recoil and increased performance, look no further than the Patriot and Patriot Super Bantam bolt action rifles.
Combining the 350 Legend on‐game performance with the feature‐rich Mossberg Patriot bolt‐action rifle makes this duo a great choice for deer, feral hogs, black bears, and other medium-sized games. Deer hunting opportunities are also expanded in areas where straight‐walled cartridges are now allowed in previously restricted (slug‐shotgun, handgun, and muzzleloader) zones.
Patriot Synthetic in 350 Legend

Patriot Youth Super Bantam in 350 Legend
6.5 PRC PATRIOT RIFLES
Joining the family of suppressor and optics-ready Patriot Predator bolt-action rifles is the newest cartridge to dominate long-range shooting: The 6.5 PRC (Precision Rifle Cartridge). These purpose-built rifles are housed in a durable Flat Dark Earth (FDE) synthetic stock with matte blue metalwork and TrueTimber® Strata™ camouflaged-synthetic stock with Patriot Brown Cerakote® metal finish and are packed with premium features to deliver tack-driving performance in the 6.5 PRC chambering.
For extended-range performance in the field or at the range, the 6.5 PRC, designed for short-action, bolt-action rifles, offers a balance of velocity and manageable recoil combined with a flat trajectory. Inherently accurate with its exceptional ballistics to beyond 1000 yards, the 6.5 PRC delivers long-range performance in the compact Patriot Predator rifle.
Every Patriot rifle features Mossberg's patented LBA™ (Lightning Bolt Action™) user-adjustable trigger with a 2 to 7 pound range of adjustment, to help provide consistent shot-after-shot placement. A top-mounted Picatinny rail on the Patriot Predators provides for ease of mounting and repositioning optics. And completing this performance-driven bolt-action package is an oversized bolt handle; spiral-fluted bolt; and sling swivel studs. The Patriot Predator 6.5 PRC rifles have threaded (5/8"-24 tpi) barrels.
With the combination of the dependability of Mossberg rifles with these hot new flat-shooting, recoil managing, high penetrating calibers, you can't go wrong this Fall!

Patriot Predator, Strata Camo, in 6.5 PRC

Patriot Predator, Flat Dark Earth, in 6.5 PRC
About the Author
Mossberg
Founded in 2002 as a subsidiary of Mossberg Corporation and offers a lineup of semi-automatic and bolt action rimfire rifles as well as over-under and semi-auto shotguns.
See all articles by this author