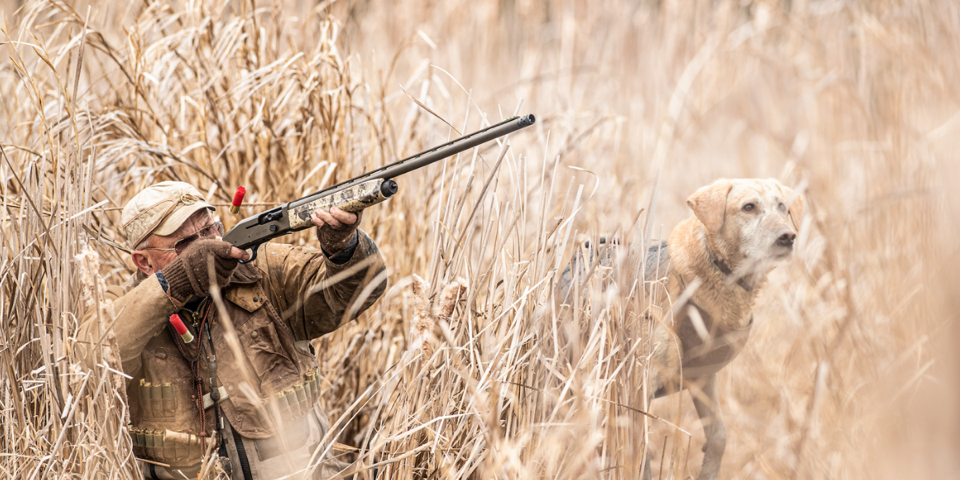 When legendary competitive shooters, Jerry and Lena Miculek, partnered with Mossberg in 2020 to launch a new 12-gauge autoloading shotgun, the 940 JM Pro, the world of competitive shooting took notice. Now Mossberg is bringing this high-performance platform to the hunting market with the introduction of two waterfowl-dedicated shotguns – the 940 Pro Waterfowl and the 940 Pro Snow Goose, featuring Cerakote® metal surfaces, chrome-lined barrels, HIVIZ® TriComp sights and camo-finished stocks and forends.
Performance-enhancing features of the 940 Pro include a new gas system that will run up to 1,500 rounds before cleaning and will reliably cycle any type of quality commercial factory manufactured 2.75 or 3-inch ammunition; oversized, beveled loading port with redesigned elevator and shell catch to allow for efficient and pinch-free loading into the magazine tube; new barrel-making process to maintain point-of-aim and impact; slim-profile forend and user-configurable stock for length-of-pull (13 – 14.25 inches), drop, and cast; and oversized charging handle and bolt release button for ease of operation.
The internal components of the 940 Pro (gas piston/rings, magazine tube, hammer sear, return spring plunger and return spring tube) are nickel boron-coated and the return spring plunger is hard-anodized aluminum. Combined with the chrome-lined barrels and self-draining stocks, these 940 autoloaders are designed for corrosion-resistant, reliable functioning.
940 Pro Waterfowl
This 12-gauge workhorse is ready, regardless of the conditions, with its 28-inch, vent rib barrel equipped with a HIVIZ TriComp fiber optic front sight (with interchangeable triangular and round LitePipes) and AccuChoke™-compatible X-Factor™ ported choke tube. Metal surfaces of the receiver and barrel wear a durable Cerakote finish in Patriot Brown, complementing the TrueTimber® Prairie-camouflaged stock and forend.

Completing this performance-driven package is aggressive Mossberg signature texturing on the forend and stock; sling swivel studs; 5-round capacity; drilled and tapped receiver; and convenient, ambidextrous safety.
MSRP: $1,050
940 Pro Snow Goose
When layers of snow geese are swirling in the sky above your blind, you want to be ready and this bold and functional 940 is up to the task. With its 28-inch barrel and extended magazine tube, you can load up to 12 rounds (2.75-inch shells) into the mag tube plus one in the chamber for a total capacity of 13 rounds. The vent-rib barrel is topped with a HIVIZ TriComp fiber optic front sight and comes equipped with an extended X-Factor ported choke tube (fully compatible with other AccuChoke tubes; sold separately).

For ultimate concealment, the 940 Snow Goose has a Battleship Gray Cerakote finish on the receiver and barrel and the stock and forend feature TrueTimber Viper™ Snow camouflage. Rounding out this shotgun package is aggressive Mossberg signature texturing on the stock and forend; sling swivel studs; drilled and tapped receiver; and top-mounted safety for ease of use by right or left-handed shooters.
MSRP: $1,120
Specifications
The Mossberg name is synonymous with industry-leading shotgun designs and the 940 series of autoloaders continues that trend. When you need a shotgun that provides enhanced protection from the elements, reliable performance and durability for the harshest of conditions, look no further than the 940 Pro Waterfowl and 940 Pro Snow Goose 12-gauge autoloading shotguns. For more information on the complete line of 940 autoloaders, please visit www.mossberg.com.
Mossberg 940 Pro Waterfowl and 940 Snow Goose Autoloading Shotguns Specifications: