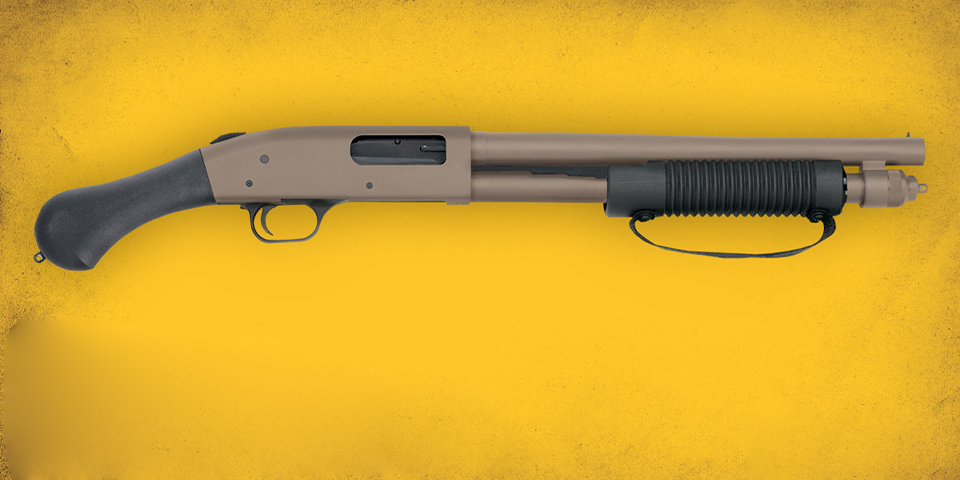 In January 2017, Mossberg stunned the industry with its trailblazing introduction of the 590 Shockwave 12-gauge, 14-inch barreled pump-action firearm. With an overall length of 26.37 inches, the BATFE (Bureau of Alcohol, Tobacco, Firearms and Explosives) classified this compact 590 Shockwave as a "Non-NFA Firearm," requiring no tax stamp for transfers.
Based on Mossberg's legendary 12-gauge pump-action platform, the 590 Shockwave combined the latest innovation from Shockwave Technologies, their Raptor® pistol grip; a strapped, cob-styled forend; shorter barrel; and impressive 6-round capacity into this well-conceived design. In October, a 20-gauge version joined the 590 Shockwave family. Now Mossberg is pleased to announce two new 12-gauge versions: a 590 Shockwave Flat Dark Earth (FDE) CERAKOTE®-finished receiver and barrel option and the portable 590 JIC® (Just In Case) Shockwave with Stainless Cerakote metal finishes. Both versions feature black synthetic grip and forend and receivers that are drilled and tapped for the easy-addition of sight systems.
Reliability is at the core of the 590 Shockwave with Mossberg's proven design which includes non-binding twin action bars; positive steel-to-steel lock-up; an anti-jam elevator; dual extractors; and Mossberg's universally-recognized, ambidextrous top-mounted safety. The 590 design features a durable receiver, constructed of anodized aluminum and magazine tube with convenient clean-out cap. These 12-gauge firearms are 2 ¾ and 3-inch capable with 6-round total capacity; feature 14-inch heavy-walled, cylinder bore barrels with single bead sight; and sling swivel studs. The Shockwave Raptor pistol grip, constructed of durable polymer, has an enhanced textured finish and "bird's head" shaped-profile, allowing for maximum control while minimizing felt recoil. The cob-styled, tactical forend is strapped for safety, greater control and smoother operation.
This eye-catching version has the industry-leading Cerakote protective coating on the barrel, mag tube and receiver in Flat Dark Earth with complementing black synthetic forend and grip. MSRP: $504

When portability and convenient storage are what you need most in a personal defense firearm, look no further than the 590 JIC Shockwave option. Housed in a durable, water-resistant tube, this version features Cerakote's Stainless (non-reflective) finish on exposed metalwork with standard black furniture. The storage tube features a convenient carry-strap. MSRP: $647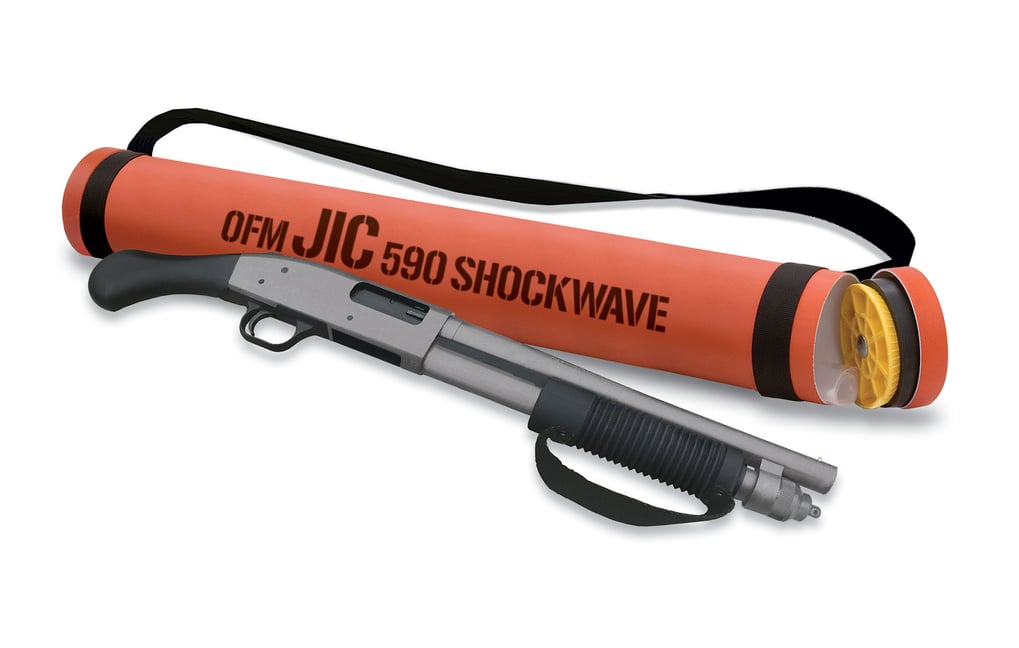 Mossberg, a leader in the firearms industry and the world's largest pump-action shotgun manufacturer, was the first manufacturer to bring these 14-inch barreled, non-NFA firearms to the marketplace and now offers three 12-gauge models and a 20-gauge option from which to choose. For more information on the 590 Shockwave series, please visit www.mossberg.com.
Mossberg 590 Shockwave Non-NFA Pump-Action Firearms Specifications:

Shockwave® and Raptor® are registered trademarks of Shockwave Technologies/Ewer Enterprises LLC. CERAKOTE® is a registered trademark of NIC Industries, Inc.
Disclaimer: Although the Mossberg 590 Shockwave is classified as a "firearm" under the Gun Control Act of 1968 (GCA), and is not subject to the provisions of the National Firearms Act (NFA), state and local laws may be more restrictive. It is legal federally, the 590 Shockwave may be considered a "short-barreled" shotgun or "assault weapon" by certain state and local laws; and therefore illegal to possess.
Please check with your local authorities concerning the legality of possessing a firearm of this configuration.