Predator Hunting: Doubling Down on Gray Fox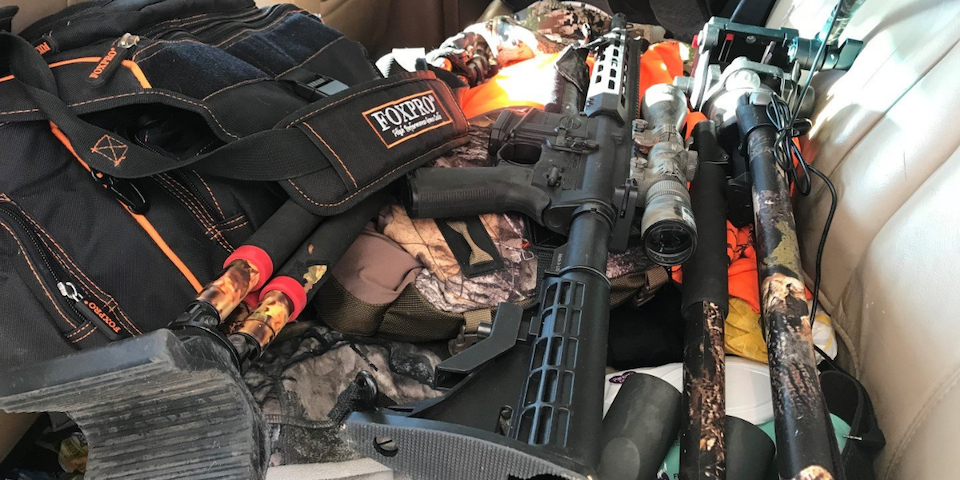 While some hunters consider foxes too cute to shoot, I personally have placed them near the top of the list when it comes to targets in my predator pursuit.
Much of my disdain for foxes stems from their relentless pursuit of the chickens and turkeys on the little farm my family and I call home. They're responsible for the loss of nearly 20 domestic turkeys, 8 chickens, and a flock of wild turkeys that have all but disappeared.
I don't consider them cute. Foxes are stone-cold killers – and I tend to think they need to be managed just like the other predators we pursue.
So on a recent afternoon when the temperatures had finally cooled off and a steady wind was blowing in the perfect direction, I headed to one of my favorite predator spots with a friend along for the ride. This particular farm is loaded with predators. I've taken fox, cats, and coyotes all from the same area. It's truly a place where anything can happen.
When I arrived at the farm, I quickly realized the wind was best suited for the south end of the farm rather than our usual set up on the north end. It's pretty much all the same ground, but the wind can make or break the way we approach the calling stand. So to avoid blowing out the area we were planning to call, we drove to the far end and slipped into the field from the south.
The dirt road we walked in on was littered with tracks. I couldn't help but smile at my buddy knowing we were gonna be in for a show when our calls broke the silence in the last hour of daylight.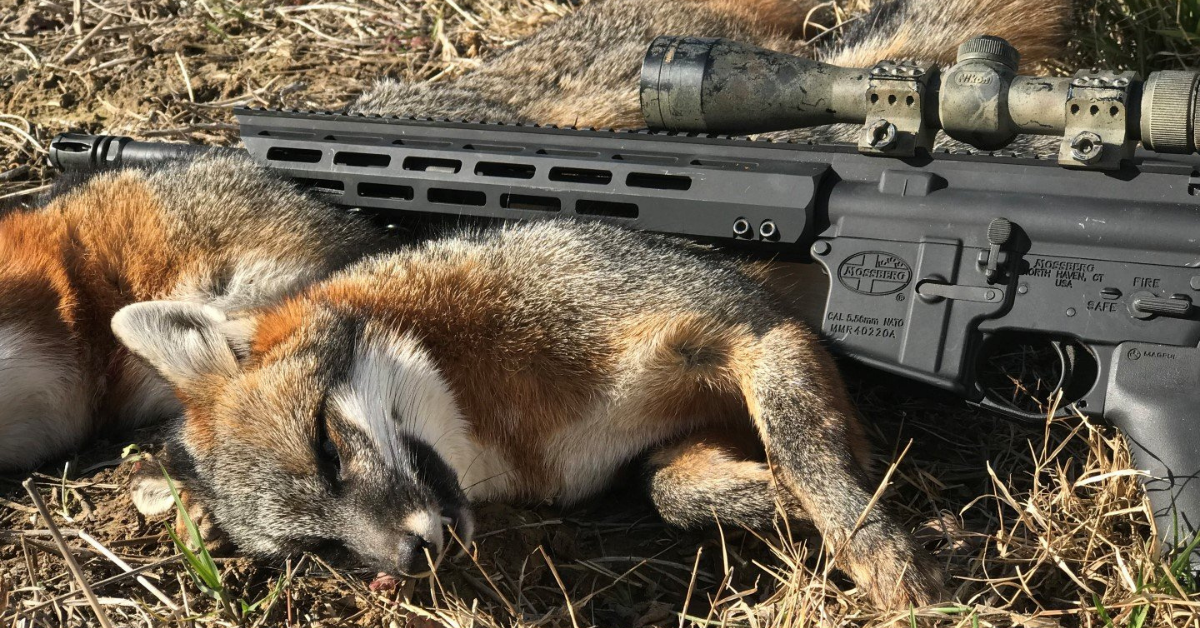 Because the farm played host to such a mixed bag of predators, we decided to blow adult cottontail distress sounds in order to appeal to a variety of predators that call this place home. I set up to watch the upwind side while my buddy sat in the field edge further down to watch the downwind approach. With the Mojo Super Critter placed on his end, I honestly figured my buddy would have the shot opportunity at any predators circling downwind of our calls.
I would simply watch from the upwind side and make sure nothing slipped in the backdoor. And just a couple of minutes into our calling routine, that's just what happened.
Out of the corner of my eye, I caught movement slipping in from the upwind side of the small pocket field where the big field necked down. I immediately realized it was a dark-colored gray fox that was the first to respond to the call. He was keyed in on our decoy out in the middle of the field. And despite seeing me move to position for the shot, the Mojo decoy held his attention.
I finally got my Mossberg MMR .223 and shooting sticks swung around to where I could get my crosshairs where they needed to be and squeezed the trigger. The fox crumpled at the crack of the gun.
What I didn't realize is that another fox had been standing just inside the brush. When my shot rang out, the second fox came out into the field and scrambled up the field edge for safety. Out of instinct, I switched to making canine distress sounds, like I do when hunting coyotes. It was honestly my first time to call in multiples on fox, so I really didn't know how, or if, it would work.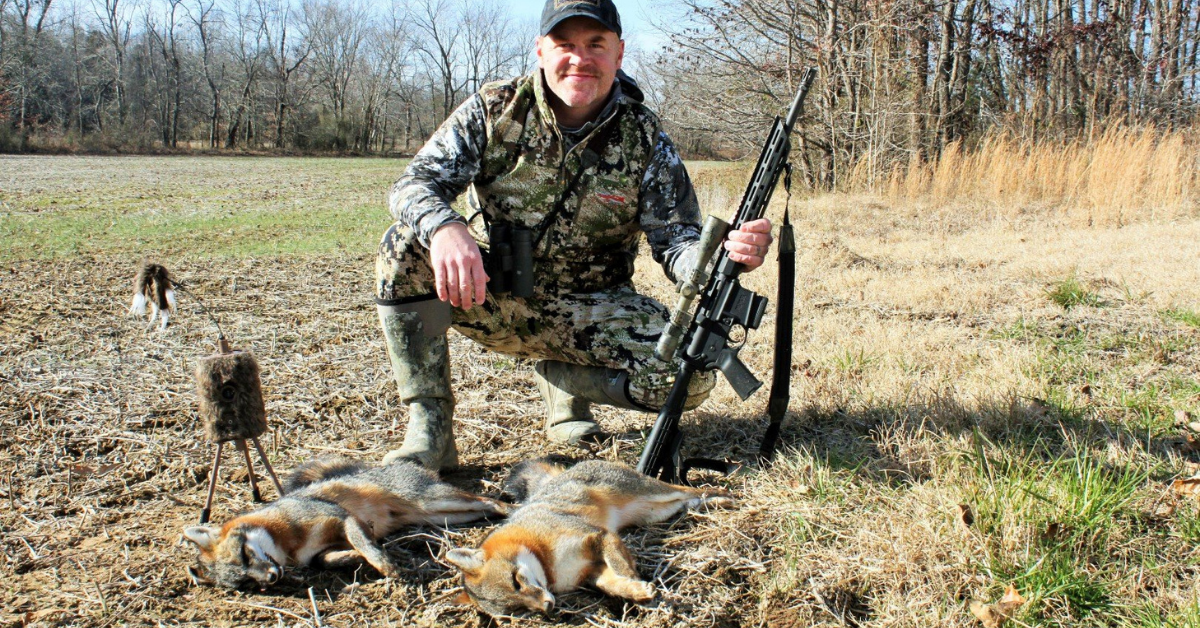 A few minutes later, I began to round up my gear assuming we had done all the damage we could do at this set. But when I rolled up onto my knees I realized I was being watched. I grabbed my 'binos to confirm what I thought I was seeing.
Sure enough, another fox was standing at the edge of the brush, just 30 yards from where the first fox laid dead. He was starring a hole through me but seemed content that I was not a threat. I slid the Mossberg back onto the shooting sticks, found my mark, and made the shot, completing my first gray fox double.
Foxes are some curious critters, so it's hard to say whether I had called up a third fox or whether the one that had run off initially had come back for another peek. Either way, we had two predators down, and the landowner was thrilled.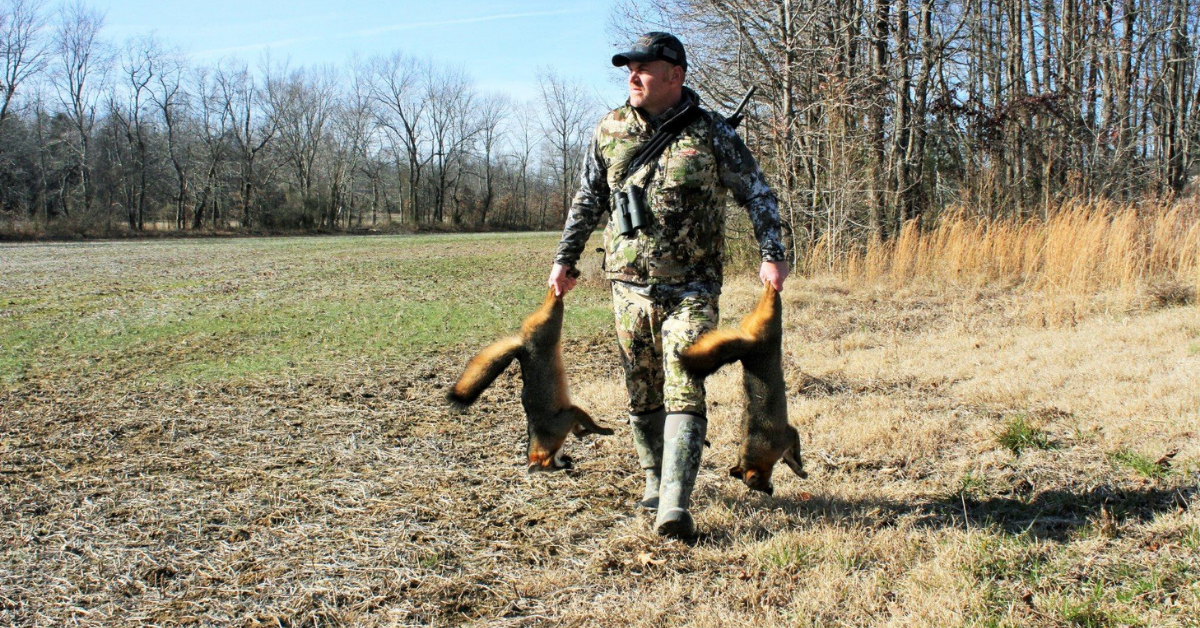 What You Need to Know Before You Go
As stated, foxes, particularly gray foxes, are curious critters. It's not uncommon for them to retreat back to the woods if spooked, only to come back on the scene a few minutes later for another look. Even after missing a shot on a fox, stay ready and keep calling. He'll often come back out for a second look.
Foxes tend to be nervous when coming to the call, particularly when sharing the same ground with coyotes. They can be somewhat reluctant to finish their approach to the call or decoy. They tend to stand and watch their backside, much like a bobcat. They don't want to walk into a confrontation with a coyote any more than they want to encounter a hunter. Don't miss your opportunity. Make your shot when the opportunity presents itself.
Foxes are small targets and easy to miss when you're accustomed to shooting at much larger targets, like coyotes. A precision shooting rifle like the MMR in .223 or the Mossberg 930 shotgun for close encounters is two excellent choices when calling fox.
While I typically use rabbit distress sounds when calling fox, on a number of occasions I've had foxes eagerly come to the call when I've blown canine distress sounds. It works well on gray foxes.
Fox hunting is typically regulated differently than coyote hunting. Be sure to check local game laws and bag limits before you go.
About the Author