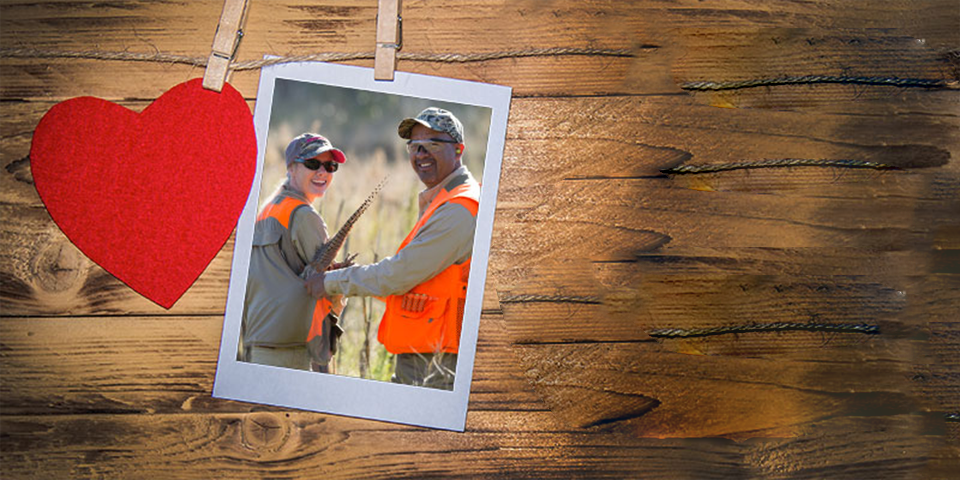 Struggling to find that perfect last-minute Valentine's Day gift? Check out this list of firearms gift ideas for the gun enthusiast in your life.
His:
Ladies, we know the story: your man loves the shooting sports - he grew up shooting Mossbergs or he has recently discovered the simplicity, reliability, and durability that has made the Mossberg brand so trusted for nearly 100 years. We're making this easy for you and providing you with 3 of our most versatile firearms to make Valentine's Day gift-giving a bulls-eye.
1. 500 Pistol-Grip Turkey Shotgun
If your guy is into hunting, you probably know he needs a firearm that's stable, accurate, and control to carry on those long days hunting. The pistol-grip offers added control and comfort while your valentine is waiting - sometimes for hours - for a turkey to come out into the open. The Mossberg 500 Pistol-Grip Turkey Shotgun is a short-barreled, 12 gauge, pump-action with an X-Full choke, ensuring great downrange performance when the elusive gobbler finally arrives. To outfit that new firearm, head over to the Mossberg Store to check out our Turkey Pre-Season Sale.
2. 590 Shockwave
What do you call a Mossberg 590 with a bird's head grip and 14 3/8" barrel? We call it the 590 Shockwave, featuring the Shockwave Technologies' Raptor pistol grip and a strapped forend for greater control, handling, and operation. Classified as fully-compliant by the BATFE, this model requires no Tax Stamp for transfers. Be sure to check your local and state laws to ensure compliance.
3. MVP FLEX Rifle
What makes this rifle so unique is that it operates on the Mossberg's FLEX system: in just seconds, and without tools, you have the ultimate adaptive firearm system. Gun enthusiasts shoot better when the firearm they're shooting with fits them properly. With the MVP FLEX rifle, you can remove and remount of a number of FLEX accessory stocks in the blink of an eye, making for the perfect fitting rifle every time.
Her's:
Buckle up, boys. It's 2017, and your sweetheart has either already fallen in love with the shooting sports, or she wants to share just one more passion in life with you. The following are some solid options for your gal this Valentine's Day:
1. Mossberg Patriot Super Bantam Scoped Combo
Finding the right fit for a firearm can be such a struggle, especially when it comes to length of pull (LOP). LOP affects whether the rifle is sitting squarely on your shoulder or too long and extending down your arm (ie. where the recoil is sure to leave a mark). Mossberg Patriot Rifles LOP is 13.75-inches, but on the Super Bantam, you can choose between 12" or 13" using the spacer system. If your better half is an inexperienced shooter, don't let recoil ruin her experience.
2. Mossberg International 715T Flat Top
The 715T Flat Top is tactical rimfire rifle featuring a Picatinny rail as well as adjustable front and rear sights. The 6-position adjustable stocks offer 10.5"-14.25" length of pull range to ensure a proper and more comfortable fit. At just 5.5 pounds, this rifle creates the look and feel of an AR in a lightweight and fun-to-shoot .22LR rimfire. Not to mention, unlike most AR .22's, this one won't break your bank!
NOTE: If your valentine isn't into the Moonshine Muddy Girl Camo, this firearm is also offered in synthetic black (#37209).
3. Mossberg International SA-28
One of the newest additions to Mossberg's International semi-automatic series, the SA-28 boasts a 26-inch vent rib barrel and gloss-finished walnut stock that is perfect for turkey, wingshooting, competition, clays, and recreational shooting. At just 6.5 pounds, this all-purpose shotgun offers a low-recoiling and lighter weight option that doesn't sacrifice performance in the field. The SA-28 is a small bore, gas-operated shotgun, both of which contribute to less recoil, ensuring a more enjoyable experience for newcomers to the shooting sports.
For more information on purchasing any of the listed firearms, watch how to buy a gun online or contact your local Mossberg dealer.