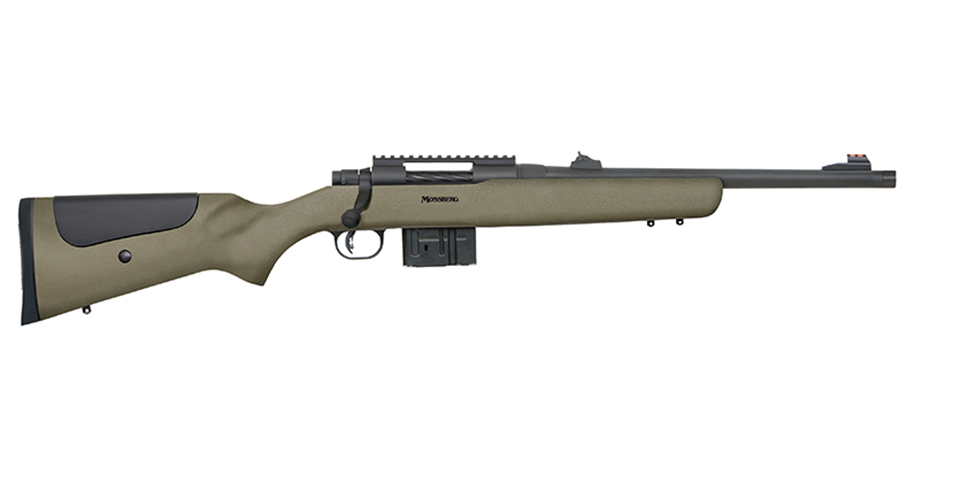 Getting the perfect gift for the tactical shooter or tactical enthusiast can be a hard task. With credentials hard-earned over decades of military and law enforcement use, Mossberg tactical firearms and accessories make the perfect gifts for those who require the most reliable gear—particularly when life and limb are on the line.
MVP LR-T Tactical Rifle
Mossberg's MVP Long Range Tactical Rifle boasts impressive out-of-the-box accuracy and reliability. Our patented LBA (Lightning Bolt Action) trigger is totally adjustable from 3 lbs. to 7lbs–and that's not the only flexibility this rifle offers: that Mosscote cheek piece you see there also adjusts up to 1.5″ vertically with just the push of a button, all in the name of optimal scope-to-eye alignment. And don't forget to note those 6″ of Picatinny rail for mounting magnified optics. With this rifle, you won't miss the mark for being the best gift-giver. Watch this quick video to learn how to buy a gun online.
590A1 – 9 Shot – Tactical Tri-Rail Adjustable
The ultimate tactical 12 gauge. Selected by the U.S. Armed Forces after passing the rigors of MilSpec qualification, these 9 shot wonders feature MilSpec construction that will delight any tactically minded shooter with 12 gauge mission specific needs, not to mention the fact that the spring, follower, and muzzle cap are all easily removed for quick cleaning (something tactical shooters find highly desirable with all the dirt, sand, and various terrains they're roughing around in).
590A1 Compact Cruiser AOW
Good things come in small packages. This new Compact Cruiser from Mossberg offer the features that make Mossberg pump-actions the choice for millions worldwide. For the tactical shooter who has everything, this is a gift that is good-to-go with ambidextorus safety, dual extractors, positive steel-to-steel lockup, dual extractors and an anti-jam elevator. Click here for a more detailed description of this brand new series.
Black Full-Zip Jacket
Tactical shooters need tactical clothes, and this jacket makes a great gift. Weather-resistant and designed with mobility in mind, this black, full-zippered jacket is a must-have for the must-shoot shooter in your life.
Mossberg Caps
More "gear" than "clothing the Kryptek Typhon Mossberg Cap makes a great "top it off" gift for the tactical shooter.
When it comes to cool hats, If you're looking a gift that will really keep a shooter cool, the Mossberg Coolmax fits the bill to a tee.
The Ultimate Backpack
If you're looking for a gift to hold all of the cool tactical stuff a tactical shooter carries, look no further. The Ultimate Backpack is constructed of extra heavy-duty nylon. It sports Molle straps with interior/exterior pockets that provide the ultimate in gear organization and protection. Color? Tactical black of course with a cool Mossberg black and silver logo emblazoned on the back.
500 Tactical – 6 Shot
With more than 10 million sold and 50+ years in the field, the legendary Mossberg 500 Shotgun is the most prolific and reliable shotgun in the world. The 500 tactical is built rugged for military, police, and law-abiding citizens alike – and this Mossberg 500, 6-Shot can handle any scenario it encounters.
Features include dual extractors, positive steel-to-steel lockup, twin action bars, and an anti-jam elevator to ensure smooth reliable operation. With a host of available special features such as lights and lasers, Mossberg 500 Tactical Shotguns make for a most adaptable gift.