Playing the Colorado Preference Point Game Pays Off!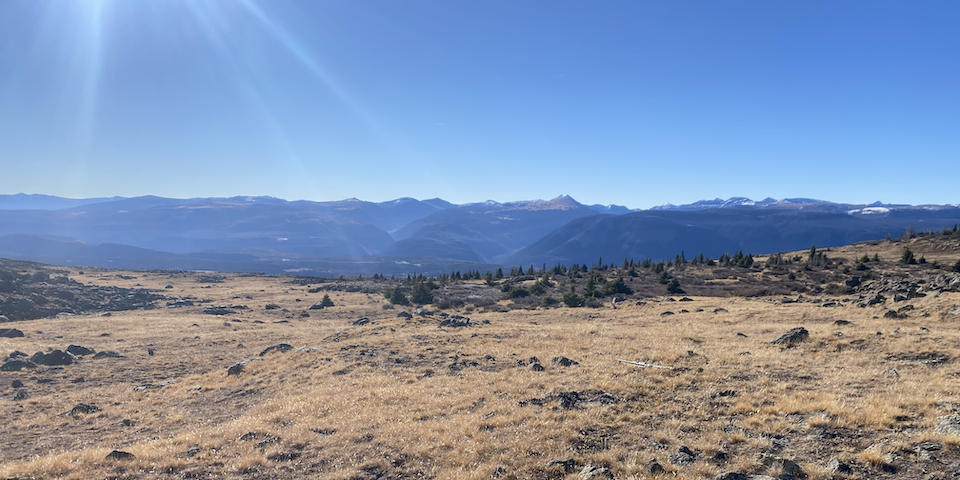 I know. When it comes time to fill out applications, I believe we all feel a little pain with the point creep for trophy units.
To get a chance to hunt a true Colorado trophy unit, it can take 10 -20 points. That, my friends, equates to 10 to 20 years of waiting. As we all know, that wait is torturous as seasons come and go. It takes the self-control of a monk to not want to cash in points for lesser units.
But don't succumb to that urge!
I recently cashed in 10 points on a trophy elk unit here in Colorado and was handsomely rewarded with a first-season bull tag in that unit. Needless to say, the day that tag arrived I had an instant case of amnesia about the long wait for this tag. I was excited beyond belief and couldn't wait to get into that unit to scout.
We spent many weekends scouting the area. We were encountering elk on each trip, but we were drawn to places where many people can see the animals. It was our plan to set up camp and hunt in this area. This made us a bit nervous as it was our opinion that many of the hunters would be competing for that particular area.
We took a weekend to scout a completely different area where we were informed there were no elk. We were poorly informed because the area was LOADED with sign. More sign than I had personally ever seen in one area. We decided at the last minute to change our plans and hunt this new area, despite the fact we had not seen actual animals.
It was a bit of a gamble but we felt we had a good chance. Plus, should come up short, we could go back to plan A.
We set up camp a day before the season and spent that day scouting and checking our topo maps to determine what would be the best tact for the following morning. There were no trails to the area, so we were relying on topography to get to where we felt we could locate elk.
It paid off!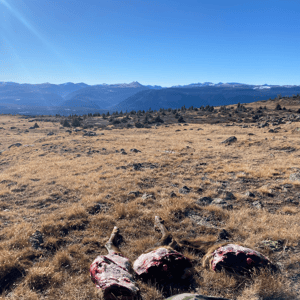 We hit the ground in the dark, winding our way up the mountain through a volley of deadfall. The goal was to hit a specific park at daybreak. As dark turned to light, we were rewarded with bugling from every direction. All calls we made were rewarded with an instant response.
It was splendid!
We called in a beautiful 6x6 at 250 yards but my shot fell short. A swing and a miss as he turned out just as I fired. I knew I had to collect myself and move on.
We continued up the mountain toward the sound of two bulls bugling and fighting. As we drew closer we could hear them locking antlers. We could hear the cows.
It was simply awe-inspiring.
There was an entire herd just above the timberline. We worked our way into range and there were two trophy bulls in the group. The herd was working its way over the top of the mountain but they were not on the run at all.
A beautiful bull stepped out. I asked if he was the shooter. My husband informed me the larger of the two had not stepped out yet. We waited a bit as we watched the bull that had stepped out.
The larger bull took a different route and went out of sight. I got situated and leveled my shot at 250 yards. Perfect placement on this beautiful animal.
As we got to him, I was filled with a lot of emotion. He was stunning. He was everything I had hoped for in this unit that I had waited a decade to hunt.
But it wasn't just the kill that was emotional. It was the entire experience of the morning. I have hunted elk many times, but I had never experienced the heart-stopping feeling of seeing bulls fight, having so many animals responding to our calls, and the thrill of encountering not one but three trophy bulls within the first hour of daylight.
I felt very small in this beautiful world.
We quartered and deboned the bull then loaded our packs and made the first of two long trips packing him off the mountain. This exertion simply amplified the satisfaction of this hunt.
Ten years. It was indeed worth the wait! Don't succumb to the urge to cash in your points early! Keep the course. The payout will far surpass your dreams!
About the Author

Kirstie Pike
Kirstie Pike is the founder and CEO of Prois Hunting & Field Apparel for Women, the leading edge for women's performance hunting gear for nine years and running.
See all articles by this author