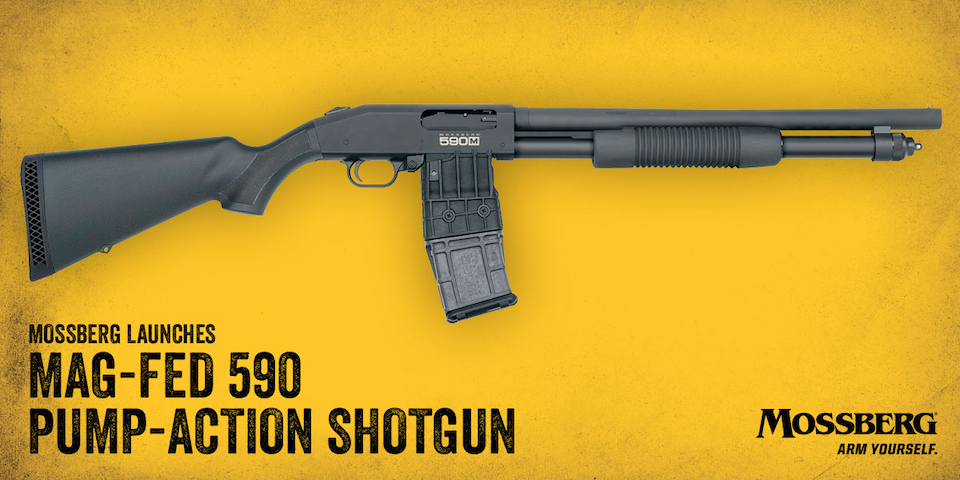 Introducing the Mossberg 590M™ Mag-Fed 12-gauge shotgun, built on Mossberg's legendary pump-action, tactical platform combined with the world's first double-stack, 10-round shotgun magazine; with optional 5, 10, 15 and 20-round capacity magazines sold as accessories. The 590M is initially available in two 10-round configurations; ideal for home security, tactical and competitive applications.
Based upon Mossberg's proven pump-action platform, standard features of the 590M include non-binding twin action bars; positive steel-to-steel lock-up; anti-jam elevator; dual extractors; anodized aluminum receiver drilled and tapped for convenience of adding optics; heavy-walled barrel; convenient cleanout magazine tube; and universally-recognized, ambidextrous top-mounted safety. With the included 10-round magazine, these 12-gauge 2.75-inch pump-actions have a total round capacity of 10+1.
Innovation is at the core of the 590M with the detachable magazine's uniquely-designed, integral stabilizing ribs which engage the magazine directly to notches engineered into the receiver, ensuring a positive lock-up. The all-steel, heated-treated magazine release button and housing are optimally-positioned in front of the trigger guard for quick, ambidextrous access for unloading and reloading the 590M. The location of the mag release does not interfere with cycling of the action. The well-executed design allows for proper balance, better swing and controlled-manipulation with a full-magazine located at the center of gravity point.
The patented double-stack magazine is constructed with hardened-steel feed lips, over-molded steel shell ramps and an anti-cant, rounded follower to ensure reliable feeding. Other design features include an easy-grip, molded external shell; proprietary self-lubricating polymer magazine body; heavy-duty ASTM-A-228 music-wire magazine spring for prolonged service life; removable floor plate for ease of cleaning; and durable black oxide finish on the steel components. The proprietary double-stack magazine provides greater capacity in less magazine length versus competitor's single stack magazine. For greater shooting flexibility, 590M magazines are available in 5, 10, 15 and 20-round capacities and are designed for use with 2.75-inch shells only. Transition quickly from a target load, to buckshot, to slugs, to less lethal with the convenience of designated magazines.
This base model includes all of the field-proven features of Mossberg's pump-action platform with an 18.5-inch, heavy-walled cylinder bore barrel; bead sight; black synthetic stock and forend; matte blue metal finishes; and 10-round, double-stack magazine. MSRP: $721

For greater versatility, this version features a Tactical Tri-Rail forend with full-length bottom rail and dual side rails for easy attachment of lights and accessories; 18.5-inch heavy-walled barrel with interchangeable ACCU-CHOKE™ choke tube system (cylinder bore tube included); protective heat shield; Ghost-Ring sight; black synthetic stock and forend; matte blue metal finishes; and 10-round, double-stack magazine. MSRP: $801

No other manufacturer can deliver the durability, innovation and total-round capacity of the 590M with Mossberg's proven pump-action platform combined with a proprietary, double-stack shotgun magazine design. For more information on the 590M Mag-Fed pump-action shotgun, please visit www.mossberg.com
Mossberg 590M Mag-Fed Pump-Action Shotgun Specifications:

Mossberg 590M Mag-Fed Accessory Magazines Specifications: